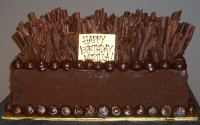 Mozilla's 10th birthday party in SF on March 31st felt like a Netscape reunion. Hundreds of geeks and cat-herders, many with Netscape jackets, shirts, and nostalgia, gathered together to celebrate Mozilla's phenomenal success. Mitchell Baker, Brendan Eich and the Mozilla community were all there to party, to enjoy the cake and to be merry. As the galactic chocolate birthday cake was being cut, Mitchell predicted that many opportunities and challenges lay ahead in the next 10 years and that the greatest achievements for Mozilla are yet to come.
Mozilla has millions of reasons to celebrate. After 500 million downloads, Firefox stands tall as the world's best free and open source web browser. After 500 million downloads, Firefox has single-handedly turned the tables on IE and has prevented Microsoft from closing the Web. Mozilla is Netscape done right.
Life would be almost unimaginable without Firefox.
Way to go! Mozilla. Live long and prosper.